'Have Your Say' Writing Prompts
Four stimulus prompts to teach persuasive skills.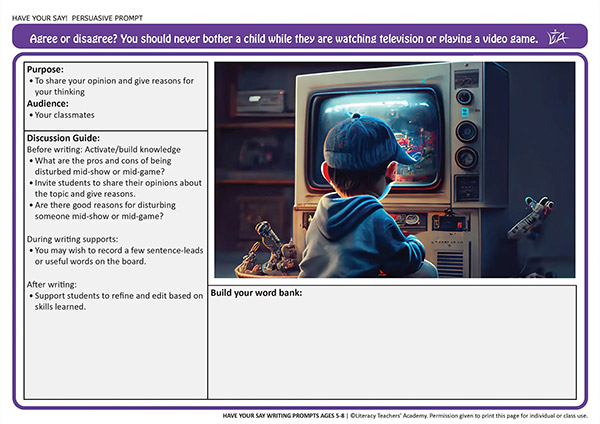 The 'Have Your Say' writing stimulus prompts are designed for students to apply and practice their persuasive skills. Each prompt is designed for a short burst of writing instruction. However, teachers should make their own judgment about how a stimulus prompt might be used.
This resource can be:
viewed on-screen
projected to an interactive board or screen
printed out for use in small groups
Preview
Download for free!
Lower school (ages 5-8)
Upper school (ages 8-12)
'Have Your Say' Overview
Like these resources?
The full set of this resource contains 25 stimulus prompts (10 lower school and 15 upper school).  Access the other 21 writing prompts over the coming weeks as a member of the Literacy Teachers' Academy.
The full set of 'Have Your Say' Quick Writes available for members of the Academy are listed below:
For ages 5 to 8
Being the winner is the most important thing
It's important to be kind to animals
Every child should have a pet
Everyone in the family should help
Good friends can change your life
Most people are kind
If you see a dog, you should always pat it
It would be great to have a pet tiger
You should never bother a child while they are watching television or playing a video game
Zoos help people to learn about animals
For ages 8 to 12
Australia was invaded by the British
Eye contact is over-rated
Family is important
People who are grateful are probably happier than people who are not
It's good to have a hobby
It's never okay to lie
Kindness is the most important attribute
Knowing your family history is important
Money always brings happiness
We should plan for more nature corridors to protect wildlife
A great teacher/coach/adult friend can change your life
All people should be treated equally
People should ask you before taking your photo and posting it online
Pets enhance happiness
To prevent waste, everyone should take their own shopping bags to the shops