The Daily Write (Early Years)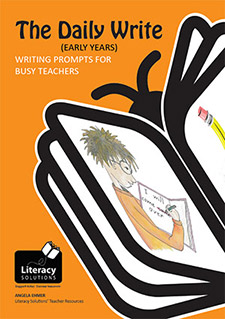 The Daily Write (Early Years) is a 48 page publication containing stimulus pictures with accompanying writing prompts. The book is designed for teachers to use as a shared text in poster format.
Daily writing, even for short periods of time, supports students to generate ideas, develop fluency of thinking, translate ideas more easily to text, apply skills and strategies for encoding and increase the speed at which subskills are recalled and recorded.
Several samples from the book are available for download.
Copies of The Daily Write (Early Years) are provided as a gift at many of our workshops in 2018 and 2019. This resource is also available for purchase online.