Oral Language: planning for explicit instruction using relevant and authentic experiences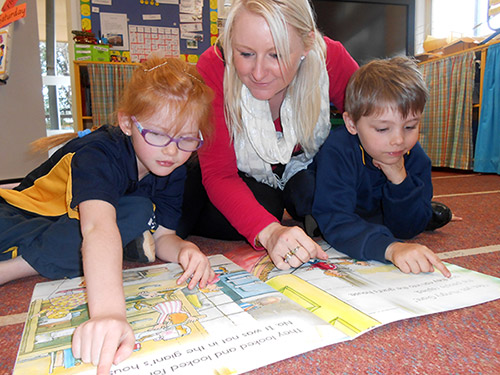 Education should develop children's capacities to become effective communicators, to understand the ideas of others and to communicate ideas in a meaningful way. Developing proficiency across speaking, listening, reading and writing is central to every child's educational journey and begins with a child's earliest school experiences.
All children arrive at Prep with different experiences and understandings about language and literacy, acquired in their early years. Some children arrive ready to begin formal reading instruction; others require more rigorous and focused attention to aspects of oral language and pre-reading skills, in order to make a smooth transition into literacy.
To determine a starting point for each child, teachers gather formative data, diagnostic data, or both, early in the school year. These data should be recorded, analysed and used to inform appropriate teaching-learning episodes. Aligning learning goals with children's interests and experiences ensures instruction is meaningful and relevant to the child.
What types of learning experiences may be required?
Teachers understand a strong foundation in oral language assists most children to transition more smoothly into print. Specific data relating to phonological knowledge, vocabulary, grammar, expressive and receptive language skills and book knowledge, assists teachers to plan for meaningful interactions which consolidate existing skills and develop the skills and knowledge a child needs to become literate.
Whole class instruction begins early, as does differentiation and individualised programming. Focussed oral language instruction may involve reading and revisiting focus picture books to:
extend vocabulary
develop phonological knowledge, such as recognition and reproduction of rhyming words
develop concepts of print
foster conversations
promote prediction and problem solving skills
build an appreciation and enjoyment of literature.
In focussed lessons, teachers may work with small groups of children to promote more active engagement and to target the specific needs of learners. Texts are chosen carefully around interest levels, content, language and text features.
In other instances, Home Corner may be the vehicle for language development. The adult may foster conversations with children during play, and when sharing may support these children to explain to others what they did in Home Corner today. If assisting this group of children to speak in sentences, the share session may conclude with each child sharing, "The most fun thing I did in home corner was … because …"
Language should be embedded across and within daily activities. Authentic interactions are the best vehicles for teaching. Experiences such as Show and Tell, for instance, are invaluable for developing oral language and authorial skills. Children are able to learn to create, or craft a text to deliver orally. Children learn to select a topic, sequence ideas, elaborate or add detail, include complex vocabulary and speak in sentences, as well as developing confidence and learning important communication skills such as eye contact, voice projection and use of non-verbal cues such as smiling and gesture.
How to highlight learning goals using Show and Tell:
Often the child's Show and Tell is related to an item or object which provides an authentic opportunity for the child to learn to craft, or design a report. In most other instances, the child's idea relates to something participated in, such as a game or sport, or the visiting of a special place, such as a zoo. This provides an authentic opportunity to learn to craft a recount.
The frequency of Show and Tell provides an ongoing vehicle for children to practice across the year. If the teacher enthusiastically highlights something important, children will often try to demonstrate or apply this.
For example, the teacher may highlight some specific vocabulary choices made by a child. After the child concludes his Show and Tell, the teacher may provide explicit feedback to teach all children about the importance of complex vocabulary, including topic words.
Teacher: Did everyone hear those interesting words Jack used to name the parts of his truck? Tell us those parts of the truck again, Jack.
Jack: (Jack points) This is a rear-vision mirror and these are wheels. Those are wheel nuts and wheel rims and tyres and these are windscreen wipers and …
Teacher: That's wonderful, Jack. Great speakers use interesting and complex words. I didn't know you knew all those topic words! Let's write that on a special chart to remind us. (Teacher writes the heading "Great speakers" onto a chart and writes "use complex words and topic words" as the first dot point beneath the heading.)
Teacher: Jack, I'll write your name on a sticky note and add it to the chart to show how skilful you are.
The teacher's aim is to highlight the use of more complex vocabulary and encourage other children to think about interesting words they might use. The next day, the teacher reminds children about the importance of complex vocabulary and topic words before children take their turns. The teacher provides feedback relating to vocabulary used and records more names on the chart as children attempt to substitute everyday words with more complex words. It is the teacher's aim to teach for assured success; all children must feel successful and some are likely to require support as they take their turn. For some children, substituting the word large for big is a noteworthy improvement and recognition of this is important. The teacher may check in with children before the Show and Tell session in order to assist them if needed.
By highlighting teaching/learning goals and providing feedback, praise and rich ongoing support and coaching, there should be visible evidence of improvement for all children across the year.
Every day is rich with opportunities to develop, extend and monitor the language and literacy development of individuals and groups. Focused, scaffolded conversations with high levels of active involvement by all children should be embedded across the curriculum and connected to relevant, authentic learning experiences. Skilful teachers make planned interactions feel like natural conversations.
View the related Blog: Oral Language: Pictorial