2010 World Congress on Reading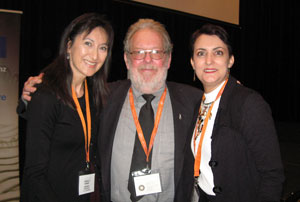 It's been a busy month, but I finally have a moment to reflect on the World Congress on Reading held last month at the SKYCITY Convention Centre, Auckland.
What a wonderful opportunity for literacy educators, the world over, to come together for this world class event.
Marisa (Battiglini) and I were scheduled to present a session for secondary school teachers on content literacy, but were delighted to have so many primary teachers also attend. Certainly the biggest thrill for me was looking around the room and seeing so many literacy teachers, coaches, leaders, administrators and consultants from Australia whom I had worked with before. Thank you for your ongoing support and interest in what we offer.
For the remainder of the conference Marisa and I were enthusiastic delegates, eager to hear what was happening here, there and everywhere in the world of literacy.  In our travels we heard about the successes and the challenges for both educators and students; all were inspiring.
A few highlights…
Professor P. David Pearson's address, Reading Assessment: Still Time for a Change. Thought provoking, humorous, inspiring; if only our politicians and policy makers were present for this clear, common sense address.
Stuart McNaughton's address, Cautious Optimism: Can Pressing Literacy Challenges Be Solved? Of particular note, were the points that schools and institutions must improve the way we serve our students and the issue of teacher expertise.
"Our resources are the people collectively engaged in literacy learning and development, and there are great needs for us all to be more knowledgeable and more strategic."
Kathy Perez's poster, Dynamic Differentiated Instruction. Jam-packed with practical, brain-based, fun ideas to engage students and stimulate learning.
Linda Cornwell & Nancy Livingstones' insightful and entertaining presentation, Access to books, quality instruction and engaged reading practice.
Alison Davis' session on metacognition. Theoretical, practical and do-able.
Perhaps a more general highlight for Marisa and I was meeting and mixing with colleagues from all around the world. As friendships formed and discussions deepened over the week, we were both surprised and delighted to hear what was and wasn't happening in other countries. As always these stories led us to want to do more and do it better.